TJX owns approximately 340 T.J. Maxx, Marshalls and HomeGoods stores in California. | Idealphotographer/Shutterstock
The Massachusetts-based parent company of T.J. Maxx, Marshalls and HomeGoods was ordered by a judge to pay $2.05 million for unlawful disposal of e-scrap, batteries and other hazardous waste in California.

Under a stipulated judgment submitted to the court by prosecutors and TJX Companies and approved by a judge, the parent company of the retail chains is required to hire at least one California compliance employee to oversee its hazardous waste program. The company will also be audited to ensure the materials are properly disposed of in all its California stores.
The total the parties agreed to includes $1.8 million in civil penalties, $300,000 in supplemental environmental projects and $250,000 in reimbursement of investigative and enforcement costs. 
TJX owns approximately 340 T.J. Maxx, Marshalls and HomeGoods stores in California. A press release stated that between 2016 and 2021, TJX companies put hazardous waste such as aerosol cans, batteries, electronic devices and cleaning agents into trash bins going to municipal landfills that were not authorized to accept hazardous waste. 
This is the second time the company has been ordered by the state to pay up for improper disposal. In September 2014, state prosecutors "resolved similar violations for which TJX paid $2,777,500 in civil penalties and costs," the press release noted. 
The latest prosecution was led by district attorneys from Alameda, Monterey, Riverside, San Joaquin and Yolo counties.
In a statement to local news, TJX said it's working on a number of programs to better manage waste materials and "have made a significant investment in time, processes and resources to strengthen our regulated waste disposal program."

document.getElementById( "ak_js_1" ).setAttribute( "value", ( new Date() ).getTime() );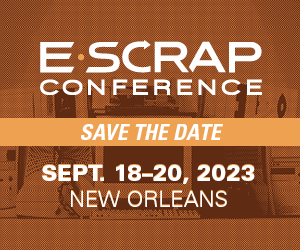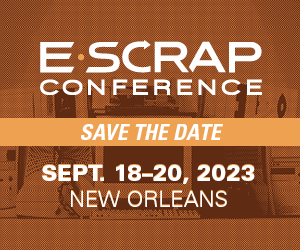 TDM, a Mexican company that has recycled millions of pounds of CRTs from the U.S., closed its CRT recycling business this year.
Integrated Recycling Technologies is developing an AI-powered app for its suppliers that will quickly categorize and price their scrap circuit boards before they ship them. The software will also power the company's own robotic circuit board sorting system.
A formal interpretation of the R2v3 standard aims to help certified facilities deal with smart devices that pose unique data sanitization challenges.
Battery recycler Redwood Materials will build its next facility on 600 acres outside of Charleston, S.C.
Universal Recycling Technologies has invested nearly $7 million in a processing facility that will greatly expand the company's commodities recovery and electronics refurbishment capabilities.
Improper disposal of lithium-ion batteries led to a $25,000 fine for a California recycling company after the batteries sparked several garbage truck fires. 
A company that provides used phone history reports has formally launched a robot that automatically grades a device's cosmetic condition, performs diagnostics and erases data.








Copyright 2022, Resource Recycling, Inc About | Privacy | Contact
Sustainably hosted on wind powered servers by Mobius Intelligent Systems.